Bathroom Vanity Styles and Design Ideas
Bathroom vanities are one of the most customizable parts of a bathroom. Consisting of the sink and surrounding storage, the vanity tends to be the bathroom's focal point. By experimenting with different styles, materials, and colors, you can find the best combination possibilities for your bathroom vanity.
Add Soothing Natural Elements to Your Bathrooms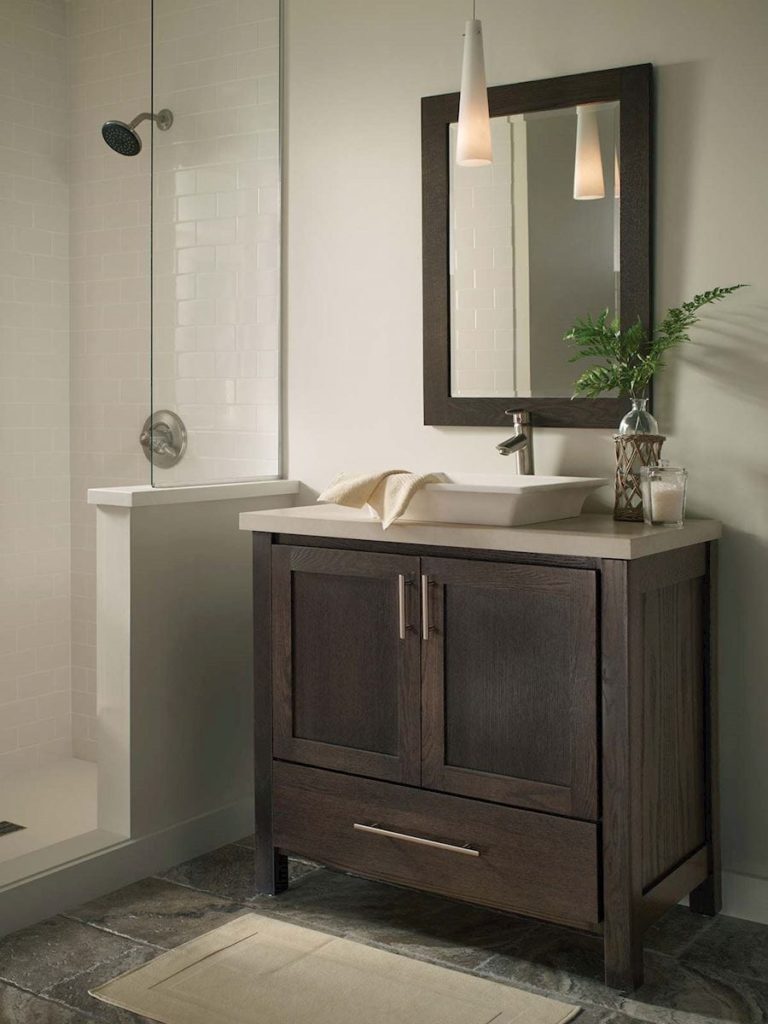 The standard industry widths for bathroom vanities range from 24″ to 72″. Before buying a vanity, be sure to measure your bathroom and leave enough room for door openings and other existing features. This will ensure that your vanity will fit within the space.
Smaller vanities are ideal for tiny spaces; midsize vanities are often used in family bathrooms; the largest vanities typically have space for two separate sinks with plenty of extra room for master bathrooms.
Check the location of the plumbing to determine the width of your vanity in order to avoid additional costs. Standard building codes also dictate that there must be at least 18 inches from the cabinet edge to the center of the toilet.
What are your storage requirements? If the bathroom vanity will be going in a master bathroom, it will likely need much more storage space than, say, a powder room or guest room. Think about your particular needs and what items you use in the bathroom every day.
Choosing the Bathroom Vanity Style and Materials
We offer modern, traditional, and contemporary vanity options from a wide variety of top brands like KOHLER and Bertch. Wood types can range from basic engineered wood, birch or pine to more expensive materials, such as Asian hardwood, oak, maple and more. To help choose your finish, think about which colors would coordinate better, or whether you prefer the natural wood grain or painted woods.
Once you've chosen a vanity, you'll need to find a coordinating vanity top to complete the design. Vanity tops come in several different materials, like cast iron, vitreous china, or solid surfaces. To create a cohesive look in your bathroom, look for matching accessories and mirrors that may accompany your vanity. KOHLER's Tailored® vanities, for example, include accessories that are designed specifically to coordinate with the rest of the collection in order to personalize the space with in-drawer storage, built-in electrical options, and other decorations.
Visit Our Bathroom Vanities Showroom in Broomall PA
Our showroom consultants can help you to find the perfect bathroom vanity for your home and family. Choose from different bathroom vanity styles like freestanding or wall-mounted vanities, depending on what works best with your space. And with our full-delivery service, you can have your new bathroom vanity delivered straight to your door. Stop by our showroom today to see our selection of bathroom vanities or give us a call to schedule an appointment with one of our consultants!