Bathtubs Bring the Spa to Your Home
Whether you had a long day at the office or a crazy day shuffling kids around to practices and rehearsal, studied all night for the big exam, or are simply just stressed out; in today's world, we are constantly looking for ways to relax, escape and recharge. It's one of the reasons why the spa industry has been so successful: everyone wants to feel pampered from time to time. In fact, according to a 2018 report by the Global Wellness Institute, the spa economy has grown to a $118.8 billion global market, employing 2.6 million workers and growing at an increasingly fast rate.
The problem is that sometimes getting to the spa can feel like another item on a never-ending to-do list and as a result, this important bit of self-care can sometimes be overlooked. That's why at Weinstein Bath & Kitchen Showroom, we aim to help you create a spa-like setting in the comfort of your own home. You don't need billions of dollars like the global spa industry. Finding the right bathtub and surrounding it with the right elements is an easy and affordable way to bring the spa home to you.
Bathtubs and the Spa Inspired Bathroom
Baths Are Heating Up
Bathing can simultaneously appear luxurious, glamorous, indulgent & therapeutic and as a result appeal to a wide range of users. While a tub can be the focal design point of any bathroom, it takes even more importance in a spa-inspired space. Lucie Green, who watches trends for New York marketing firm, attributes the recent bathing boom with a renewed romanticism surrounding rituals. According to Ms. Green, bathing offers "a meaningful slow experience that offers its own meditative layers."
More and more bathers are using the tub not just a means of cleaning oneself, but also as a respite from the constant buzz of smart devices and screens. For millennials, a group with an increased focus on wellness and self-care, bathing offers a healthy, alternative relaxation method compared to happy hours or boozy late nights. As a hashtag search will reveal, millennials, ever-present on social media, also see baths as Instagram, Snapchat or Pinterest ready. (Bathing itself might be a device-free zone, but there is no rule against snapping a picture before hopping in.)
Choosing the Right Bathtub
When choosing the type of bathtub for a remodeled or new bathroom, the choices can seem overwhelming. Bathers must make decisions including installation type, size, material and hydrotherapy before they can enjoy their tub. Consultants at Weinstein Bath & Kitchen Showroom will work with you in order to make the selection perfect for your spa bathroom.
Bathtub Types & Installation
Freestanding tubs create a stunning focal point in a spa bathroom. Although originally all tubs were freestanding, (in 1883 John Michael Kohler invented the first bathtub by covering a cast iron horse trough with enamel and adding legs) these tubs can come in various, shapes, sizes and materials and styles. Freestanding tubs have seen increased popularity in recent years, especially in master suites.
Alcove tubs are the most commonly seen tubs in North America. These tubs are typically surrounded by three walls and fit snugly in between them. Most alcove tubs are 60 inches in length and 30, 32 or 34 inches in width. Alcove tubs are generally shallower than their counterparts to ease entry into them.
Undermount tubs are installed with a platform surrounding them. Because these tubs involve stepping down into the tubs instead of up and over the apron, they can come in larger depths. Hydrotherapies are also most typically found in undermount or drop in bathtubs.
Drop-in tubs are very similar to undermount tubs. The only difference between the two is how they are mounted. Drop in tubs have a rim that sits on the deck of the built platform and drop in tubs are mounted flush with the top of the platform.
Bathtub Size
The size of the tub should be largely determined by who will be using it & what their purpose for using it will be. Depth can be very important: for adults that want to take spa-like baths, soaking tubs are usually the answer. These are tubs deeper than 19" and provide full water coverage for an average adult body. However, soaking tubs may prove to be difficult to use for other bathers. Older users would benefit from a lower apron to step over & bathing young children in a deep tub can put a strain on the adult's back. More frequently, the length and width of the tub are dictated by the amount of space available in the bathroom.
Bathtub Material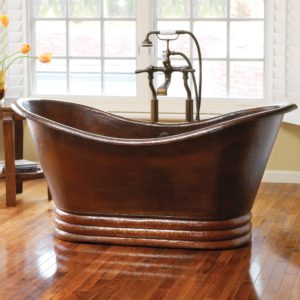 Enameled Cast Iron tubs are known for their durability, rich color, and glossy finish. Kohler Enameled Cast Iron features an extra thick, durable and is made from partially recycled iron for a more sustainable process.
Acrylic tubs are made from a strong, flex resistant material. Acrylic is easy to clean, resists cracking & chipping
Cast Acrylic is a premium solid surface material that allows for unique bath textures & designs. It has a polished matte look of stone but is warm against the skin. Kohler's cast acrylic is called Lithocast
Fiberglass tubs are similar to acrylic but more affordable. However, with greater affordability comes some drawbacks. Fiberglass tubs are easier to scratch or crack and generally less durable than acrylic tubs.
Copper tubs are easy to clean and care for, antibacterial & create a beautiful centerpiece in a spa bathroom.
Stone tubs, like NativeStone by Native Trails, is made using cement and other materials. NativeStone blends natural, sustainable materials with cement to form a material with the strength of concrete while weighing less than expected. NativeStone tubs are exceptionally stain-resistant, crack-resistant, and scratch-resistant.
Hydrotherapy & Other Spa Options
Kohler Vibracoustic tubs have speakers mounted to the inside wall of the tub. A control panel that mounts to the wall above the tub operates the speakers. The vibration from the sound of the speakers transfers from the tub wall to the water, creating a unique & relaxing bathing experience.
Kohler Heated Bubble Massage delivers thousands of bubbles that thoroughly support and massage your body for an invigorating, blissful experience. The system is hygienic and easy to clean, featuring automatic and manual purge cycles.
Kohler Effervescence blankets the bather with thousands of tiny champagne-like bubbles, retaining their temperature and creating a warm embrace.
Whirlpool Baths provide a targeted, powerful hydro-massage and consistent water temperature helps reduce tension and soothe sore muscles. An inline water heater and pump keep the water warm.
Chromatherapy uses color psychology & lets you choose one of 8 colors, or cycle through. Each color or blend of colors reacts with the bather's mind to help deliver the achieved mood.
Kohler Bask Heated Surface warms the neck & back while reclined in the tub. This extends the bath time by keeping the bather cool even as the water slowly loses its warmth while exposed to the ambient air.
Bathtub Style
Style is important when choosing a tub for a spa bathroom. Tubs can be angular and contemporary or rounded and traditional. Especially with materials like acrylic and cast acrylic, there is most likely a tub to match any décor.
Other Important Elements in a Spa Bathroom
Stimulate the Senses
Sometimes when designing a bathroom, too much emphasis is put on visuals and not enough attention is paid to the other senses. A true spa-like setting will stimulate all or as many senses as possible in order to fully relax and recharge the user.
Smell – use candles, essential oils and diffusers to add scents like lavender, vanilla, chamomile & jasmine
Sounds – add relaxing sounds from a sound machine or use products like Kohler Vibracoustic to create a soothing ambiance
Touch – splurge on plush towels, mats & robes so that after a long soak in the tub, your skin is not exposed to a rough surface
Taste – Who doesn't like to enjoy a cup of tea or coffee (or glass of wine or beer!) while soaking in the tub?
Warm Toned Accents
Warm toned accents, such as Kohler's Moderne Brushed Gold, Delta's Champagne Bronze, Brizo's Luxe Gold or Moen's Brushed Gold & polished nickel do much more to create a warm & inviting space than their cooler toned counter parts in polished chrome or polished brass. See for yourself from the examples below!
Incorporate Natural Materials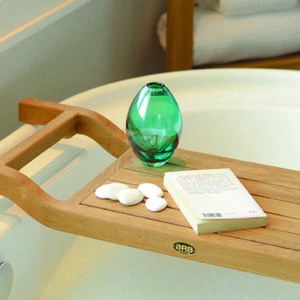 Spas are at their best when they infuse natural elements into their designs: exotic leaves, mud masks, and river stones.
Green is good! Incorporate plant life into your spa-like bathroom.
Think about selecting a NativeStone tub or vanity top to incorporate a concrete-like element into the space.
A must-have for any bather is a teak tub caddy, like this one from ARB Teak to hold your book, glass of wine & whatever else you may need while in for a soak. Teak is naturally mold-resistant and antibacterial, making it the perfect wood to be in proximity to the moisture of the bathroom.
Art
When used in the proper setting, art can elicit all kinds of emotions in viewers. In your spa bathroom, choose art that conveys tranquility or peacefulness. Consider using scenes from nature or abstract art crafted to relax.
Let Weinstein Bath & Kitchen Showroom in Broomall Help You Bring the Spa to Your Home
Our showroom consultants will walk you through the step by step process of designing your bathroom and filling it with elements to recreate the relaxing environment of a spa right in your own home. From choosing the right bathtub to selecting a caddy for it, our passion is to help you craft a spa bathroom that you'll absolutely love.