How to Choose the Best Colors for Your Bathroom
Research shows that colors directly impact a viewer's emotion which makes color choice an extremely powerful and important decision when designing a bathroom. Color has a wide range of emotional effects in viewers, but not everyone has the same reaction to every color. Color preference and selection is personal. Preference can be influenced by environment, age, cultural background, and life experiences.
When designing your bathroom, it's important to consider your own emotional response to colors. While the emotional aspect of color is subjective, there are also design principles relating to colors that can manipulate how most eyes perceive a room. In a small bathroom, for example, color can be used strategically to make the bathroom "feel" larger. Finally, it is important to consider color trends when designing a bathroom.
The Emotional Impact of Color
While the emotional effects of color varies from person to person, research has shown some universal trends to be mindful of when designing your bathroom:
Yellow has been known to increase irritability, stimulate appetite and enhance memory retention. Yellow is often considered a "happy" color
Green is considered a neutral color. It often invokes moderation, balance & recalls nature and serenity. Green was sometimes avoided in the past because it was not very flattering to most skin tones
Blue encourages viewers to slow the body and mind down, think conceptionally and use logic. Blue also decreases appetite. Like green, blue also appeals to natural elements by calling to mind water. Various different shades and hues of blue appeal to both men and women
Violet has, for centuries, been associated with wealth, luxury, regality, and spirituality
Red invokes courage & individuality. It encourages the viewer to act on impulse to indulge himself or herself and live for the present moment. Red also promotes eating more and spending more money. (Think about all of the fast-food chains that incorporate red into their color schemes!)
Pink has been known to be a stress reducer and stimulates interested in sweet, sugary things
Orange is playful, fun & pleasurable
Brown can often be a version of yellow or orange and is considered a conservative color. Brown, like green and blue, evokes a strong tie to natural elements
Perception of Color
Color can be manipulated within a space to create a special illusion. Try these color techniques: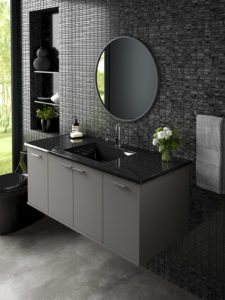 To expand a space using color

Use cool colors
Use light colors
Use dull colors
Keep contrasts to a minimum

To shrink a space with color

Use warm colors
Use dark colors
Use bright colors
Introduce several contrasts

To lower a ceiling with color

Use warm colors
Use dark tones
Use strong saturation

To heighten a ceiling via color:

Use cool colors
Use light tints

To shorten a room with color, on the narrow wall of the room:

Use warm colors
Use dark colors
Use a strong saturation

To lengthen a room using color:

Use cool colors
Use light colors
Use dull colors
Limit contrasts
Grouping Colors Together
Kohler has identified five color palettes for designing a bathroom
White

There is a bold purity to white, an unadulterated brilliance that draws our eye to quiet restfulness. Powerful in what it doesn't say, white is full of wonder. As an unmarked canvas, it sets a space apart and invites personal expression. In the bathroom, we tend to equate white with cleanliness. And with personal well-being so much a focus of the modern daily routine, white remains a natural choice for the bathroom space. When layered with texture and detail, all in complementary shades of white, and suddenly a bathroom becomes a rich, subtly complex space that still evokes a sense of freedom and possibility and invites you to let go. Incorporate shades of off-white like Biscuit, Dune and Mohair Gray in fixtures and furniture. Try faucets in Polished Chrome, Vibrant Brushed Nickel and Vibrant Brushed Bronze.

Gray

Gray can be warm or cool and has a chameleon-like versatility that designers love. Gray is more popular than ever, which has led to an explosion of hues from camouflage inspired green-grays to stormy blue-grays. Mix in Vibrant Brushed Nickel, Vibrant Titanium or Vibrant Brushed Bronze faucets. For furniture and fixtures, try Satin Oak, Mohair Gray, White, Dune and Ice Grey.

Cool Neutrals

Calm, serene spaces often begin with a palette that's underpinned by blue-grays and whites. There's an open airiness that accompanies neutrals that fall on the cool spectrum – an ideal backdrop for a spa-like retreat. For furniture and fixture colors, incorporate colors like Felt Grey, Cherry Tweed, Ice Grey, Cashmere, and Thunder Grey. Faucets in Polished Chrome, Vibrant Brushed Nickel or pewter will complement cool neutral spaces well.

Warm Neutrals

Soft neutrals with sun-kissed golden undertones are a sure bet for designing warm, welcoming spaces that make everyone who enters feel at home. Discover caramel-hued finishes and smoky accents that run the gamut from cozy to smoldering. Designers are shifting the boundary markers with autumn brown-grays, cherry cordovans, spicy cayennes, and deep corals. Add accent colors with finishes like Vibrant Polished Nickel, Vibrant French Gold, Vibrant Brushed Bronze, and Vibrant Moderne Brushed Gold. White, Terry Walnut, Biscuit, Almond and Mexican Sand colors for fixtures and furniture will finish out the color palette.

Noir

Whether making a cameo appearance as an accent color or playing the lead, black has a way of stealing the show with elegance and sophistication. Black is classic and buttoned-up, sexy and sensual, dark and dazzling. Black brings drama that we love. Black is a standout in either a master bath or a powder room. Like stepping into a secret, black rooms reveal their design details incrementally, unfolding like a narrative. Adding in furniture colors like Batiste Black & Ebony Velour and fixtures in White, Dune and Black Black. Complementary faucet finishes include Vibrant Brushed Nickel, Vibrant Brushed Bronze & Oil Rubbed Bronze.
Trending Colors
For the last few years white and gray have been the two biggest bathroom trends and there is little evidence to suggest that is changing. However, it is becoming more and more popular to mix in warm elements or pops of color. Navy blue, black and forest green vanities are all seeing increased popularity as homeowners look to add a bit of boldness into their bathrooms. Warmer tones like Kohler's Vibrant Brushed Bronze, Vibrant Modern Brushed Gold and Vibrant Polished Nickel are also trending. Another major trend in bathrooms is black. Incorporating matte black faucets or matte black hardware on a shower door creates a stark contrast with classic white elements.
Find Colors You'll Love at Weinstein Bath & Kitchen Showroom in Broomall
At Weinstein Bath & Kitchen, we have a wide variety of colors available for you to immerse yourself in. Be inspired by our expertly designed bathroom vignettes or mix and match to create a bathroom design that fits your style. Our design consultants are available to help – just stop by or make an appointment today!