Top Paint Colors of 2023 for Kitchens and Bathrooms
At Weinstein Bath & Kitchen Showroom, we strive to keep you updated with the latest trends and top choices in design. As we transition into the latter half of the year, we have identified the top paint colors of 2023. Let us explore these new and inspiring choices that promise your spaces warmth, elegance, and sophistication.
Forging Warmth with Redend Point
Redend Point is a soulful yet subtle, intriguing yet minimal color with a striking blend of sophistication and a warm, inviting feel. Because of the warm and welcoming color, this paint is ideal for a bathroom or a kitchen, especially since people spend plenty of time together in the kitchen.
Serene Spaces with Evergreen Fog
If transcending into a calm, soothing ambiance is what you seek; Evergreen Fog is the paint color for you. This color has soft, muted green tones. Paint your bathroom in this relaxing shade for a spa-like atmosphere, or apply it in your kitchen for a restful ambient experience.
Inviting Brightness with Malted Milk
Malted Milk is here to fill spaces with warmth and inviting brightness. This cream color is perfect for bathrooms and kitchens alike, as it is a neutral color, providing opportunities for certain fixtures to stand out with contrast.
Purity and Freshness with Pure White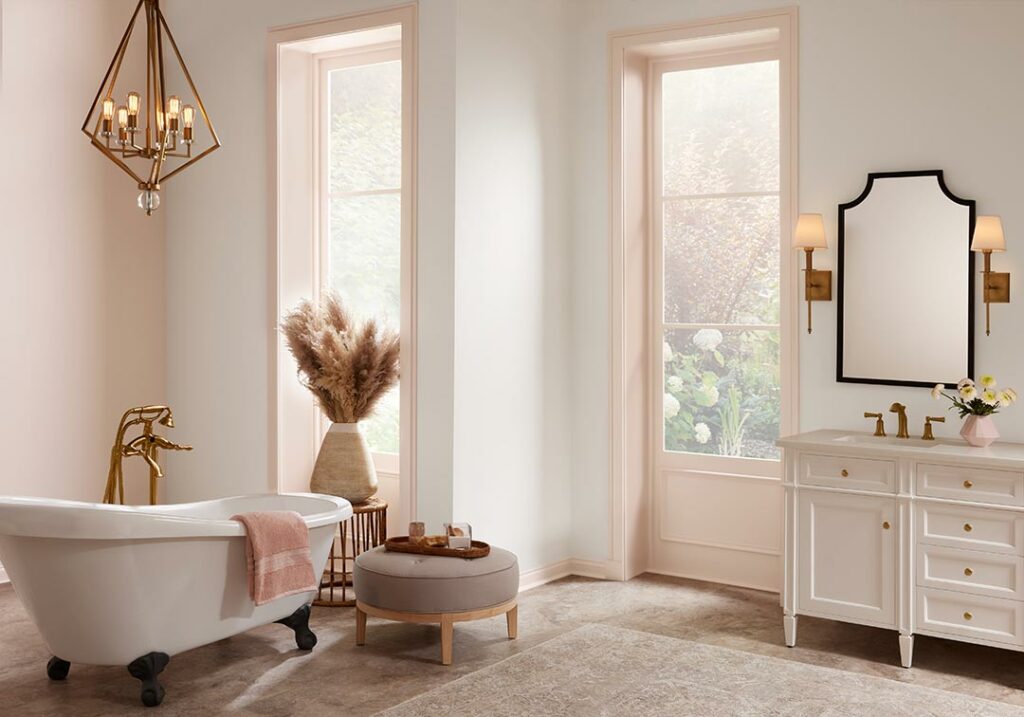 True to its namesake, Pure White is a fresh, crisp color ideal for crafting bright, airy spaces. As another neutral color, Pure White holds universal, versatile appeal for both bathrooms and kitchens and offers a clean canvas for you to add more personal touches.
Why These Colors Stand Out in 2023
Versatility: The top paint colors of 2023 are versatile and can work for both bathrooms and kitchens. In addition, these paint colors work well with other colors or styles of fixtures, trim, and other decor.
Style: All these colors align with the latest trends in interior design and look to remain stylish and stay in vogue for a while.
Durability: These colors from various paint manufacturers are known for long-standing durability, guaranteeing that these colors shine for years to come.
Whether you want to create a bright and cozy atmosphere or design a more dramatic space, these top color picks will allow you to create your dream bathroom or kitchen.
As always, we are here to help you with personalized assistance. Visit our showroom today or get in touch with our design experts. Begin your journey of transformation with us at Weinstein Bath & Kitchen Showroom. Our showroom houses a wide collection of kitchen and bathroom fixtures, trim, and other products that complement the top paint colors of 2023.