What Size Kitchen Island is Best?
The island plays a pivotal role when designing a functional and aesthetically pleasing kitchen. The first step in planning your kitchen island is determining the size. Getting the size right is essential for ensuring that the island fits seamlessly into your kitchen layout and serves the intended purpose effectively.
Guidelines for Kitchen Island Sizes
The minimum recommended size for a kitchen island is 2-by-4 feet. This provides enough space for essential functions such as food preparation and extra storage. However, a crucial factor to consider is the overall size of your kitchen when determining the island's dimensions. Ideally, the island's total area should be, at most, 10% of the kitchen's total area. For instance, if your kitchen measures 150 square feet, your island should be a maximum of 15 square feet. This rule of thumb helps maintain a harmonious balance between the island and the rest of the kitchen.
Seating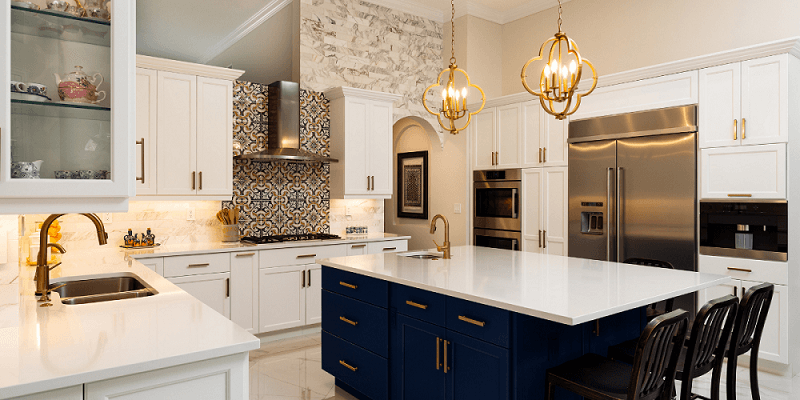 Now, let's delve into a kitchen island with seating. How many bar stools should you aim for? Typically, for a 6-foot island, you can accommodate three barstools. This allows for a comfortable dining or casual seating experience without overcrowding the island. Of course, you can adjust the amount of seating depending on the space available and your personal preferences, but three barstools are a good starting point for balance and functionality when planning for a kitchen island with seating.
Other Factors in Kitchen Island Form & Function
To further enhance your kitchen island's functionality and aesthetics, consider the types of sink mounts, materials, and colors that will match your new island. Sink mounts come in various options, including undermount, self-rimming, and apron front. The choice depends on your design preferences and how you intend to use the sink.
In terms of materials for the island, you can choose from a wide range of options, including stainless steel, cast iron, composite, or stone. Each material has unique benefits regarding durability, maintenance, and aesthetics. When selecting the material, consider your kitchen and island's overall style and design!
Selecting the right size for your kitchen island is a crucial aspect of kitchen design. The island should complement your kitchen's layout and size, ensuring and enhancing functionality and aesthetics. Go to our kitchen products page to shop more about a sink's features, materials, and colors for a kitchen island that will also meet your culinary needs! By carefully considering these factors, you will be well on your way to creating the perfect kitchen island for your culinary adventures and social gatherings.