Master Bathroom Trends For 2022
As a homeowner, you always want to make sure that your home's interior looks current and on-trend. While you don't need to completely revamp the look of your interior to keep up with the latest trends every year, cherry-picking a few key design features from the latest trends can help to keep your home looking fresh and stylish. On the other hand, you may be completely redesigning your interior, in which case, you will have a blank canvas to let your interior design skills come to life. Whether you are making small changes to maintain a modern style or you are completely redesigning your bathroom from scratch, it's important that you are up-to-date with the latest master bathroom trends for 2022.
Let's take a closer look at some of the most popular master bathroom trends for 2022 to give you some inspiration for your redesign.
Free-Standing Bathtubs
While freestanding bathtubs are not exactly a new trend, they have been making a major comeback over the last number of years. In 2022, we are expecting to see free-standing tubs become a bigger feature than ever before. These styles of tubs bring an instant feel of style and sophistication to any bathroom, turning an everyday feature into an impressive feature piece.
Tech-Filled Bathrooms
Technology is impacting every other area of our lives including our bathroom designs. One of the major master bathroom trends for 2022 that you need to keep an eye out for is tech-filled bathrooms. From high-tech toilets to smart showers, automatic sinks, and Bluetooth speaker systems, there are countless ways that tech can be incorporated into your bathroom design moving forward.
Stylish Storage Solutions
Bathrooms require plenty of storage, meaning one of the most influential master bathroom trends for 2022 we are likely to see is the inclusion of more stylish storage solutions. Visible storage solutions such as towers and built-in vanity cases help to keep your bathroom neat, tidy, and functional. Not only will this design tip keep your bathroom looking great but it will make your space more practical too.
Reinventing Shower Spaces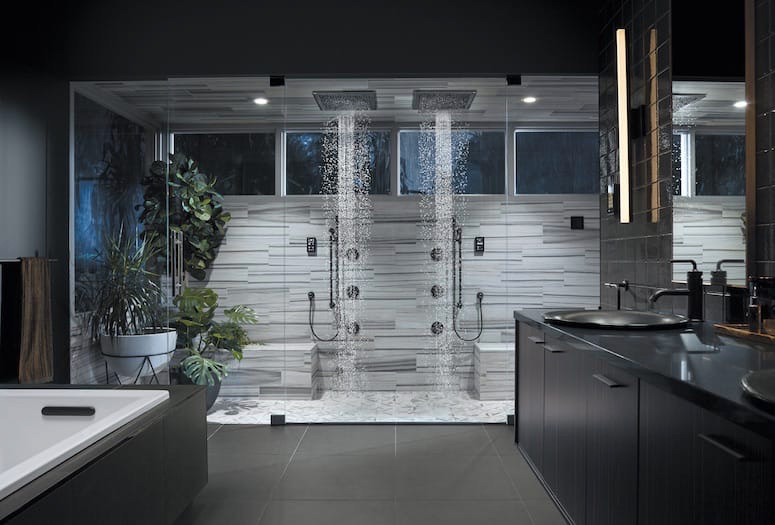 Shower spaces are at the forefront of every interior designer's mind going into 2022. Whether you're upgrading to a smart shower system, you're installing a second showerhead, or you are expanding your showering space, there's no denying the impact that showers will have on master bathroom trends for 2022. Many homeowners are choosing to create larger shower spaces with double showerheads, providing more space to be creative with your design choices.
Schedule A Consultation With Weinstein Bath & Kitchen Today!
To ensure that you achieve the look you want with your bathroom redesign, be sure to schedule a consultation with Weinstein Bath & Kitchen today. Our showroom showcases all of the best master bathroom trends for 2022 and our team can talk you through your options to help you to find the perfect solution to meet your needs so you can get the results you have in mind.